24-HOUR Towing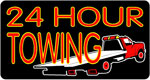 ------------------------------------------------------------------------------------------------------------------------------------------------------
Currently Available Thru:
Bryant's Tires & Towing (AAA Service Provider)
1165 East Duval Street
Lake City, FL 32055
Telephone: (386) 752-0491
These men are kind and compassionate toward the distressed motorist and regardless of the hour, will assist you in your every need including finding safe comfortable lodging, restaurants, or even if necessary, road-side first-aid.
Their equipment is late-model and in superb mechanical condition.
This local business is also listed on YellowPages.com, WhitePages.com, SuperPages.com and AllPages.com.
------------------------------------------------------------------------------------------------------------------------------------------------------